Two posts condensed into one for you today, reasoning behind this further on! Firstly and foremostly my fourth Why I Love My Husband - The Never-ending list, linking up again with
Happywivesclub.com
. Short but sweet this week, because I'm just about to fall asleep.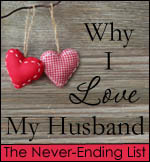 34. Those of you who've followed my posts about Mr G will know by now he's a joker. Pretty much any situation is fair game for a laugh. And if that man can read
filth
into anything, he will.
Mr G: Michelle! Michelle! Come quickly! I've got a Robin on my nuts and a pair of Tits on my fat balls.
Me: Jeez.
This really happened. Mr G likes birds. Seeds, fat balls, nuts, bird baths, bird houses - he spends more on treats for the birds than the kids. Yet, Mr G can take something so... so... innocuous and make it sound dirty.
Me: *Under boys bunk beds with vacuum nozzle, in most vulnerable position possible* Can you turn me on please?
Mr G: Mmmmmmmmm... I can...
Me: I meant the hoover, touch me and I'll break your fingers.
35. He's still unblocking the toilet after 'Cabbagegate'. Bless him.
Well - any decluttering fans out there would be really proud of me this week! I have purged. Recycled. Shredded. Donated. Launched. I have been ruthless. I have boxes and bags galore ready to do a car boot sale this weekend. I can move freely from room to room, and I feel a million times better, if stiff and exhausted! And gravely unblogged!
The first casualty - the cookbooks. Yeah, a big percentage of those are going. I find that the more cookery books I've acquired, the less I actually cook. Once again - too much choice. Old DVD's - still in shrink wrap, some bought as far back as 6 years ago - and I haven't watched them? Will I miss them? Or do I let them clog up my shelves for another 6 years? CD's - my music collection is all backed up as MP3. I don't listen to CD's any more. Novels, some I've never even glanced at and those I have, I'll never read again - or if I do, it will be on the Kindle. Clothes, kids clothes, books and DVD's they've outgrown. Anything doesn't sell it can be taken to the charity shop on Monday.
So apart from giving away all my stuff my week has gone a bit like this.
Random ASD moment of the week: 'Mum, who invented the word 'nipples'?'
And you think I would know this because...?
Loving this...
Most amusing email subject line this week (that doesn't include 'penis', 'lonely cheating wives' or 'Vigara'. What is Vigara???): 'Why you're secretly mad'.
Secretly?
Most optimistic email subject line this week: 'We'll all be wearing white dresses this Summer'.
I think not. Not all of us, love. Not
all
of us.
Heartbreaking observation of the week #1: I have grey hairs. Nay, silver. And they're 10 times stronger than the brown ones.
Heartbreaking observation of the week #2: I cannot comfortably wear any shoe that isn't flat. So four pairs of boots are ready for sale, two of them brand new, because simply put - watching me trying to function in anything other than flip flops is like watching a 2 year old in her mothers stilettoes. Highly entertaining but most uncomfortable.
'Why my son is going to fail his A Levels' #1: This week he ranked no 32 worldwide on Black Ops TDM. I don't know what a TDM is, and hopefully when I change the wireless key on the router to something he has no control over, he'll put the same amount of effort into his schoolwork :-)
And to finish off my humiliation and misery, I've just been informed that my youngest (6 years old) has been telling his friends I have a 'flappy bum'. How bloody wonderful. Thank you very much. A flappy bum.