Happy Valentines Day to all my lovely, lovely readers! Much love for putting up with my inane and insane ramblings. And just remember, love comes in more forms than just a significant other, so here's to - our other halves, our parents, our children, our siblings and family, our pets and wonderful friends. Anything or anyone that makes you feel love or loved.
We don't celebrate the day as such - I don't want to sound like a misery but we show our love to each other all year round, not just on one day. We get each other a card and then tonight I'll cook us a nice steak dinner and an as-yet-undecided dessert. How are you spending your day?
Linking up again - for my third week - to
Happywivesclub.com
and Why I Love My Husband - The Never-ending list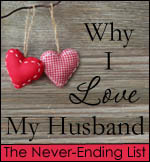 31. Ohhhhhh. I blocked the toilet on Monday. Again. Anyone going to ask me how? Any advance on 'No, weirdo?' Hows about - I emptied cabbage soup down the toilet. Unblended might I add. Why? Because - and I quote myself - 'It's vegetable so it should flush'. Don't press me further on this. It was early, it was Monday and the words 'colander' 'drain' and 'compost bin' seemingly hadn't sparked to life in my vocabulary nor my brain.
(Yes, that's
four
children I'm unleashing on the world reared with that kind of parenting. Sometimes I
ASTOUND
myself with how simple I am. I don't mean basic, I mean stupid).
If he had done this, I would have shouted at him. Especially as the water level was coming precariously close to spilling over the rim. He just looked at me as if I was a simpleton (which under the circumstances was both warranted and accurate). He looked at me as if I was a simpleton and unblocked the toilet. Which isn't the first time, but it's the first time he's had to unblock soup. So it was a learning curve for us both. Me - don't flush unblended soup down the toilet. Him - he married a simpleton. Win win. More so for me.
32. Eco-warrior or cheapskate - you decide.
Mr G: Those flowers *nods towards decaying, almost 2 week old bunch of roses bought for anniversary* in Waitrose tonight. £15.
FIFTEEN POUNDS!
Me: Tsk.
Mr G: The same ones as those.
FIFTEEN
pounds. Good job those have lasted til Valentines Day.
Me: Lasted? They're crispy?
Mr G: They're fine.
Me: They're crispy!
Mr G: Pot Pourri.
Me: Pardon?
Mr G: Pot Pourri. Home made. Petals off. In a dish. Have we got a nice dish? Always thinking. You don't have to thank me.
33. A simple one - but oh, how effective. He does the ironing. All of it. All of the time.